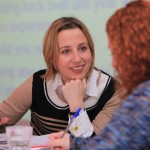 Personal Development Workshops & Seminars
Beeleaf aims to increase your workforce effectiveness at times when your employees focus, confidence and communication can be challenged. This is possible by providing employees with tools to improve productivity & their overall well-being by taking a wider approach to work life balance.
Workshops and seminars include:
Managing returners
Being a 'Good Enough' working parent
Managing your career break
Transferable skills of parenthood
Eldercare & Work – how to care for aging parents and keep your career on track
Engaging Dads in the work place
Achieving your work-family balance
Maternity/Paternity mentoring
Through maternity and beyond
'Having it all' being a modern day parent
Being an Authentic Female Leader
Parents Guilt-What happy working parents think
Clients work has included:
Realising Your Strengths – Equate Scotland
Responding to Change – GE Aviation
Children In Scotland A Mans Place Conference-Fathers at Work workshop
Career break returners workshops – Equate Scotland
Women In Management – Speed Coaching March
Work Life balance; Myth or Reality? Scottish Parliament Maternity Network
Managing your Career Break – Women In Pharmacology
New Lives; a New Perspective – GE Oil & Gas
Managing Maternity – Morton Fraser Womens Business Network
Managing it all, Maternity mentoring training – Scottish Parliament
Through Maternity and Beyond – Developing a diverse and sustainable workforce  – The Coaching Conference http://www.thecoachingconference.co.uk/
The Facts:
Investing in Health & Well being activities has a high ROI of £1:£4 (Cooper 2010)
42% of female managers have taken maternity leave and 20% did not return to work (ILM 2011)
Only 50% of female manages rate their confidence as high compared to 70% of male managers. Higher confidence  is correlated with higher career ambitions (ILM 2011)
The lack of senior women in the Science Engineering and Technology sector costs the UK in the region of £23 billion a year in lost revenue (UKRC).
Twice as many women than men dont want to become managers (ILM report 2011)
For more details please ring Sam on 07954 433 659.